India Work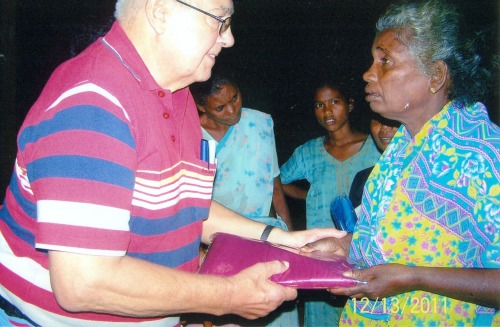 Chester Ault was a lifelong member of the Woodsfield congregation, having served at one time as one of our shepherds. Since 1986, Chester has been making annual trips to India to preach the Gospel. Through Chester, God has allowed thousands of lost souls an opportunity to hear about His Son and to become obedient to Him.
Sadly, Chester passed away in May 2016.
Good News
On 01-03-2015, one soul obeyed the gospel of Christ, her name is Ruth. Kindly pray for the new born baby growth.
Dear Brother Chester Ault,
Good news I wish to share with you. I and Brother DV Daniel often visit in Thaadoor village I preached Jesus and His gospel to this village people. Today I travelled to Thiruthani Velanjery village for teaching to the two souls from Thaadoor Mrs. Rosy and Miss. Nagamma. Brother Sudhaakar brought them to the Velanjery village to teach them the way of salvation and about baptism into Jesus Christ. I taught them clearly and they accepted the gospel and wish to obey and I baptized them into Jesus Christ. Here I attach those pictures. Please go through them and I request you to pray for these new babes in Christ Jesus our Lord.
His and Yours,
David.
Baptisms at the Sullurpeta Church
On December 2, 2012 the church in Sullurpeta, India added 3 souls to Christ. Please pray for them.
Bihar & Nepal Ministry
"Greetings to you in the name of Christ. Brothers, I am sending you some of the pictures of the Bihar and Nepal ministries. We are working very hard. By bicycle we went to Nepal and preached the Good News to the people. Kindly pray for all these people. People are very much attracted toward the Good News and they requested us to come and teach to them about the New Testament church. May God Bless you." ~Massih Tudu
Result of the Flip-Flop Drive
Back in June 2012, we had put the donation tree in the foyer and asked you to purchase 2 pairs of flip-flops for each person. The drive was to help the orphans and widows at the Mission Vision Orphanage. Mission Vision is the orphanage that Chester helps in India. See the results of our drive below. Thanks to everyone who contributed.
Left: The package arrives. Center: Display of flip-flops. Right: Massih Tudu with the children.