Other Missionary Work
Honduras Report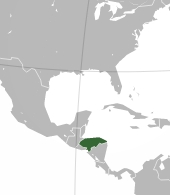 Thank you [Woodsfield Church of Christ] for helping to send me to Honduras. It was my first time. My team of 12 from North Central Church of Christ in Indianapolis stayed at Baxter Institute, a Church of Christ preacher school that serves Spanish speaking ministers and missionaries. The people at Baxter were very gracious and hospitable. We stayed there the entire week so my team and I were able to visit and to minister in two places: Breaking Chains, a homeless ministry in central Tegucigalpa, and in Izopo, a poverty stricken mountain community where 25 to 75 percent of the children do not thrive due to malnourishment.
North Central church has been serving in Izopo for ten years. In the past we have built many homes, but our goal now is to help build community structures so the people can build their own homes. To assist the educational system, we delivered and installed six donated computers to Izopo's school. To help build other community structures, we met with an altruistic Honduran group called Solidaridad, who we teamed with to teach skills such as gardening and composting, nutrition, and salable skills such as knitting and crocheting.

Thank you so much for sending me. Please pray for this special work and if you ever want to join us, we welcome all helpers. Please contact me at lesliekenney5@gmail.com.

Please visit our blog at http://northcentralglobalmissions.blogspot.com
In His Name,
Leslie Kenney
Image source: Wikipedia.
Partnership with Jean Grenier
Beginning January 2012, the congregation entered into a relationship with brother Jean Grenier of St. Ambroise, Quebec. Jean was converted from Catholicism many years ago and now works with those with catholic backgrounds. We look forward to many years of prayerfully and financially supporting his efforts there in Canada. Please visit Jean's website for further details at http://egliseduchristausaguenay-lac-st-jean.ca
We still continue this support to this day.
Check out the Winter Newsletter and the photos.